Interested in learning about the 4 food groups? Visit Slice and Pint and they won't hesitate to tell you their version:
Much like the famous Russian River (California brewpub famous for pizza and some of the best ber in the world), Slice and Pint creates some truly amazing beer with some excellent pizza. With many Belgian and German beer styles that are spot on to the style guidelines, this Atlanta brewpub is well worth the visit. If the incredibly delicious and well-priced beer doesn't have you on your way there already, the pizza should get you off your couch now!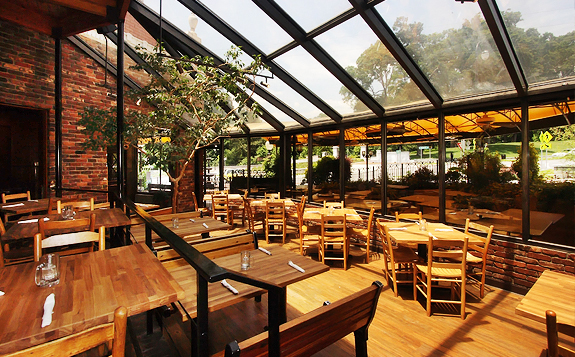 Very close to the Emory University campus, this cool local hub will most likely have you immersed in Atlanta culture with Emory college students, beer snobs, and folks just there for a good time. The restaurant has begun to offer pizza delivery, however I have no idea why, since you can't get the beer if you have it delivered? This place has a very nice brewpub feel with wood bars and tables and some patio seating; it's definitely not your nearby Papa Johns. They even bake real Belgian yeast into the pizza dough! I really enjoyed the 6 flights of beer filled with unique flavor and I had to get a pint of my favorite. I will certainly be back soon!
My Rating
:
| | | | | |
| --- | --- | --- | --- | --- |
| Date | Facility Rating | Location Rating | Beer Rating | Beer Notes |
| 11/2016 | 8 | 6 | 8 | Tried 6 of about 10 and everyone raised the bar! |
Best Beer: Dunkelweizen - What an exceptional beer! While it is malt-heavy, it is never filling or heavy. The Dunkelweizen has rich, sweet creaminess with bready notes and high complexity. While it sounds like this might be a 1 drink dessert beer, it is not; it is balanced evenly to make it light and incredibly drinkable, again, and again, … and again...